Blog
Posted on
Be prepared for Autumn/Fall by taking advantage of our Summer Discount
10% Off All Custom Tailored and Ready to Wear Garments

Valid through August 1, 2017

Your discount will be automatically deducted at checkout.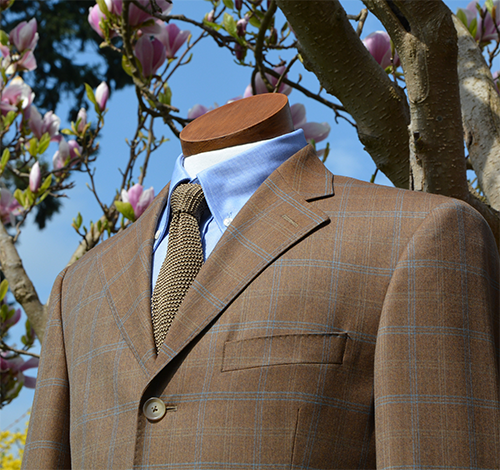 '25 Fabulous New Tweed Cloths' New Porter & Harding Glenroyals at 'B' Category Price until end of August.
Splendid vintage cotton striped fabric. We have been getting some very interesting fabrics in for boating and summer jackets.
If you are in close to Chicago, New York or Washington DC, and would like to meet with our Master Tailor to check your fit. Please see the dates below and contact us to book an appointment.Chicago20th June& 27th JuneWaldorf Astoria East Walton ChicagoNew York28th June (PM Only)29th JuneIntercontinental NY Barclay Hotel - 48th/Lexington Avenue [...]
Looking at and evaluating some brilliant wools here. 690gsm Cavalry Twill. These may have been in production in one form or another since the 18th Century.
Bookster has updated terms, for customers wanting to pay for their orders upon delivery rather than making the full payment up front. Customers can now use the coupon code 50DEPOSIT at checkout, and will only be charged a 50% deposit on their order. The remainder will be charged upon shipment of the goods from [...]
Here are some wool tattersalls available for special order, generally for vestings, but can be used for a stylish jacket as well.
Bookster Suits are back with a simplified ordering system.http://www.bookster.co.uk/men/custom-made-to-order...Order now and save 100 Pounds on your order with coupon code SUIT100
Finding this 1960's Abercrombie and Fitch (back when it made gentleman's sporting clothes) Tweed Jacket to be an inspiration. Now where to get this Tweed for 2017?Vendors? Your feedback welcome
All ready to wear items are reduced by 25% at Bookster for the remainder of the month of February.Use Coupon Code RTW25 to save 25% at checkout. All Ready to Wear Jackets and Blazers included.