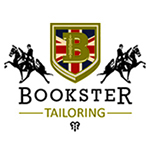 My Coveted Covert Coat and its Position in Etiquette in the UK and across The Pond
by Louis Margaglione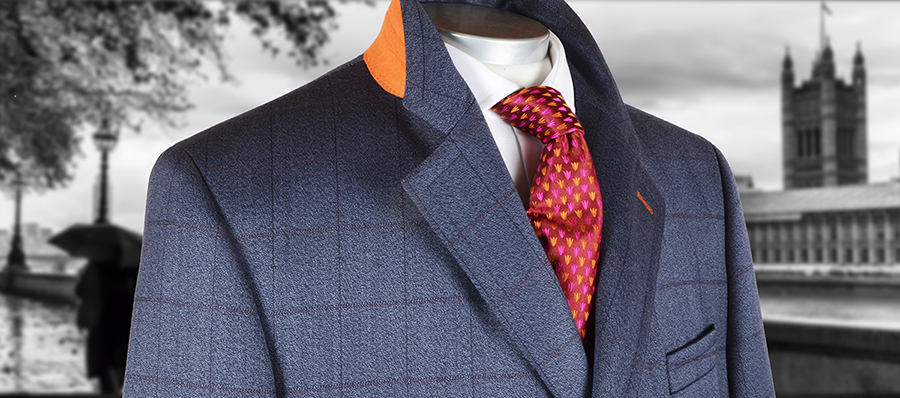 I purchased my first Covert at the London shop of Ede & Ravenscroft. It was an off-the-rack purchase as a young professional and I wore it everywhere for 20 years before ordering a made-to-measure garment from Bookster. My E&R is still providing additional years of service in the possession of my son.
I spent a full 25 years in banking. In the first year I was invited to participate in a charity golf event. I had just started in the management training program at Bank of America and they paired me with a retiring executive from Northern Trust. He had two pieces of advice for me. First, never let your tie do your talking for you (certainly not the case in the above Bookster styling!) - and next, nobody in this business is going to take you seriously until you have gray hair, so just get used to it.. As a new associate who would occasionally be taken on client calls, I was not to be a distraction in any way. Banking, like many professions, had its rites of passage, and dress was very much a part of it. These rules were largely unwritten, but one could figure them out if paying attention. Ties are a great example. The New & Lingwood or Brooks Brothers repp could be worn from your first day of training to retirement. Hermes was only allowed for Managing Director or Senior Vice President. This observation was particularly important for my associates based in New York and London.
At some point earlier in your career, around your mid-late 20s, you were expected to own a serious pair of black shoes (think N&L, Church's, or Alden) and that most bankerly of coats – the Covert. Originally designed for riding, it was long enough to fully cover a suit jacket, but shorter than the more stately (and slightly stuffy) Chesterfied, making it ideal for town and country. The poacher's pocket was the perfect spot for the morning FT. And the Covert fabric was a strong repellent to wintery slush. I would see them worn while at training in San Francisco. They were up and down LaSalle Street in Chicago where I was based. The color depended on your locale and even possible military association. Navy seemed to be the most universal.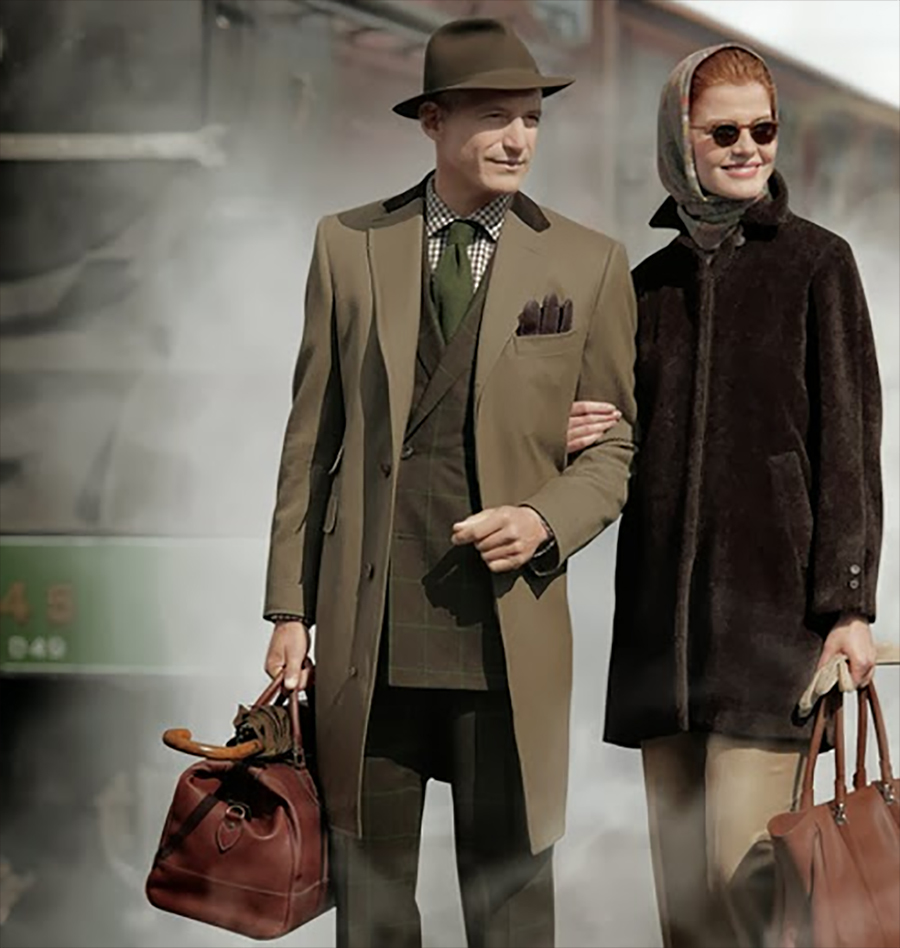 The Covert has never been an exclusively city coat. It is the one coat you packed for the business trip with a holiday weekend attached. The Covert was omnipresent when I was at Oxford, and is still a regular in the colleges and town pubs. When I return, students wear them collar-popped, double-warped by a long colorful college or boating club scarf. A versatile garment, I see them get admirable glances when worn with tailored jeans while strolling over long weekend trips in Charleston and Baden-Baden. Wear it while you watch your child compete at the school sporting event, or to cheer on the friend participating in the weekend polo match. While you're watching, pop the collar and wrap a scarf to be youthful once again.
It's hard not to look confident when wearing the Covert. It is clear that its owner is a professional and suggests that he actively participates in endeavors that do not compromise on manners or etiquette. It has always been a coat for the gentleman. But it never wears you. And the slightly shorter length provides a fit that is obliging to every height.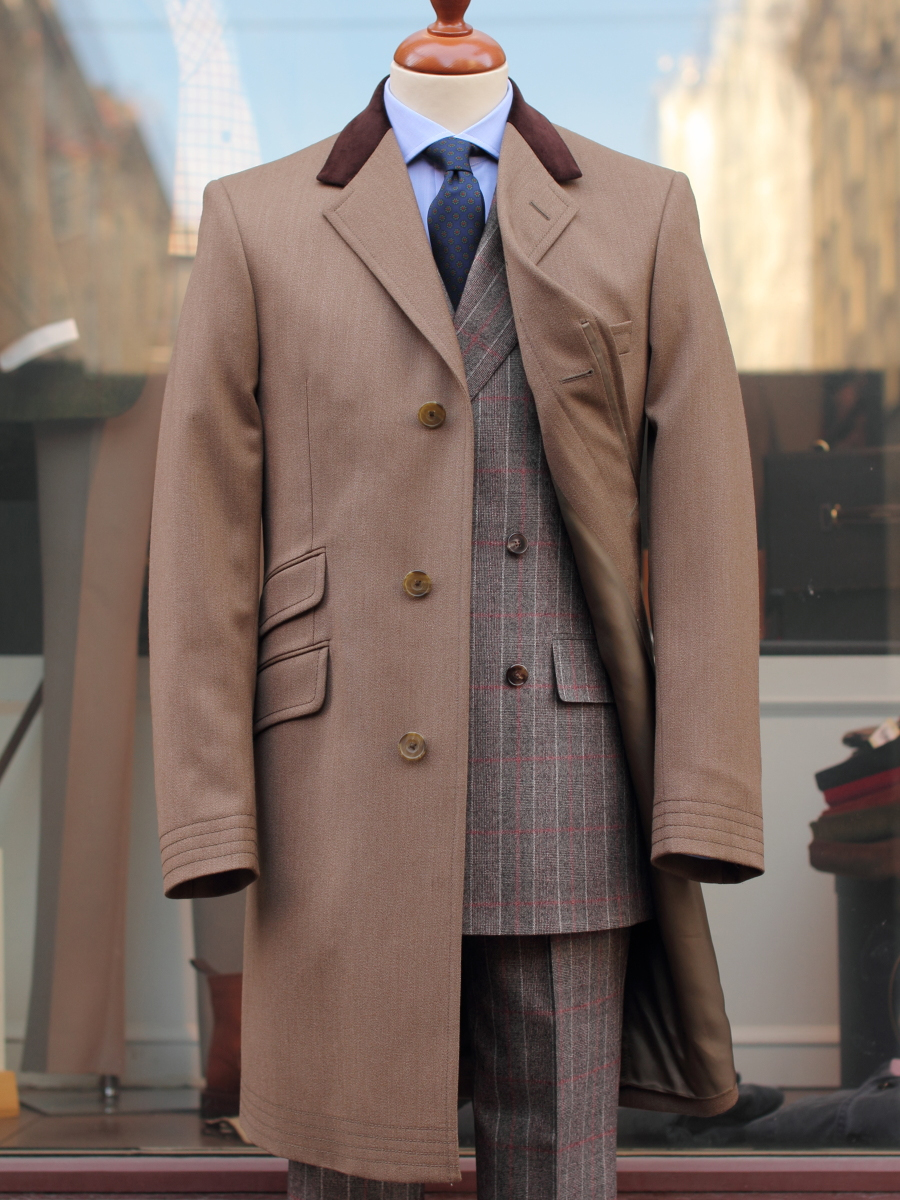 The Bookster Covert is the genuine article. An investment in timeless style. As an English Company, the garment is distinctively British with a covert cloth selection from the venerable Huddersfield mill of James Crowther. Choices can be made from a range of solid and more unusually check covert cloths, so no need to worry about whatever is available off-the-rack for this season. The authentic Covert has a unique stitching at the cuff and no buttons. Versions have been offered over the years by different makers that include cuff buttons and a variety of coating cloths. All of these options are available through Bookster if desired (make sure to finish the button holes if that is your selection, it is included in the Custom service).
The detailing is where Bookster excells. The garment will be made specially for you to your measurements - so it will fit. Choose the lining, trim, collar, stitching, buttons, pockets, pocket jetting, and more. This will be your garment, and will be evident as such. To be candid, I chose to be fairly understated with my selection and let the exquisite tailoring deliver the memorandum. It also allows me to be more playful with my scarf selection. But you can be as much of a peacock as desired. The friendly staff at Bookster can provide experienced advice along the selection process. And, with proper care, the Bookster Covert will also last to be proudly handed down.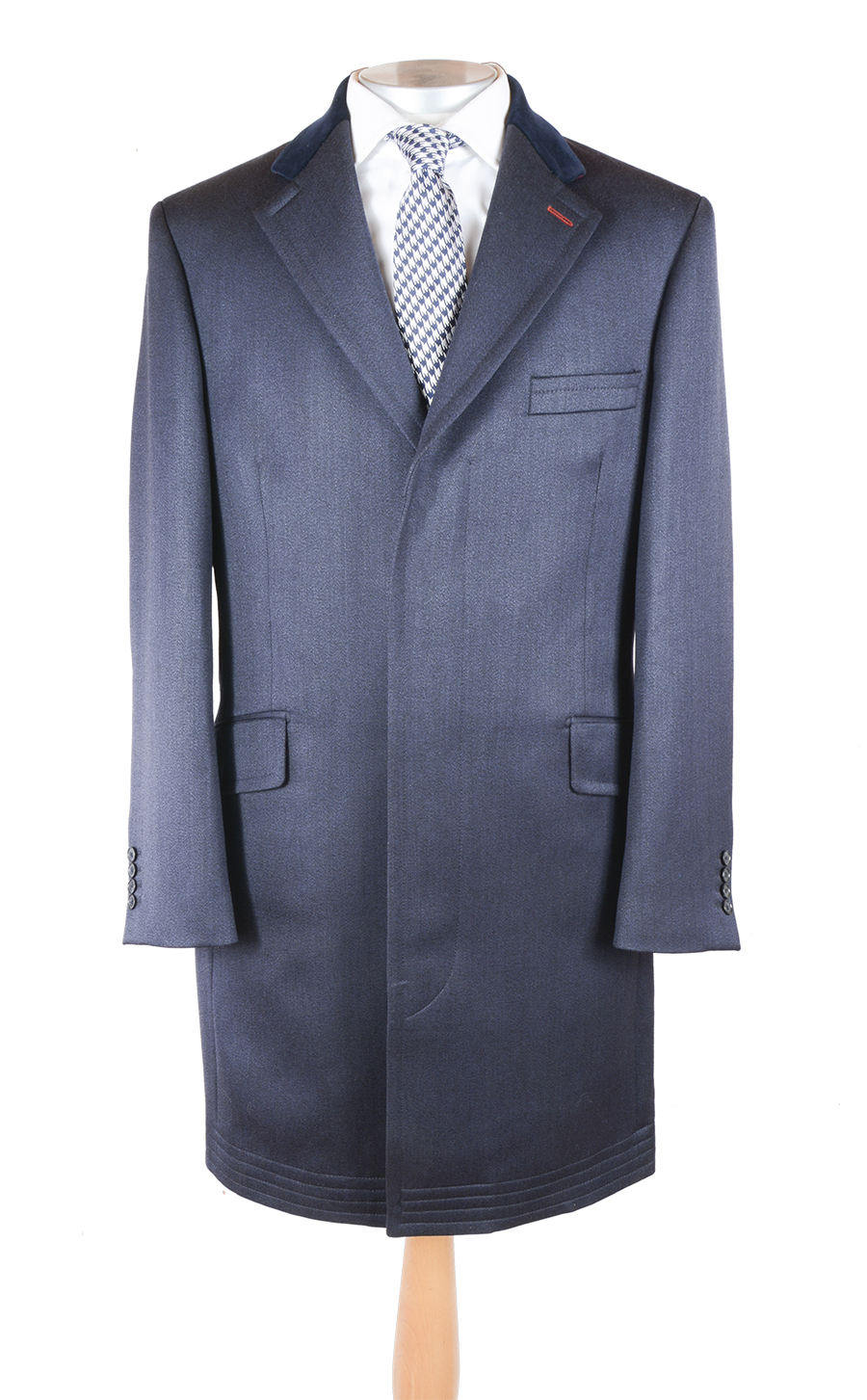 Bookster Navy Covert Coat, Retaining the Covert Hem Stitching but with a Real Cuff
Click here to Design your Covert Coat