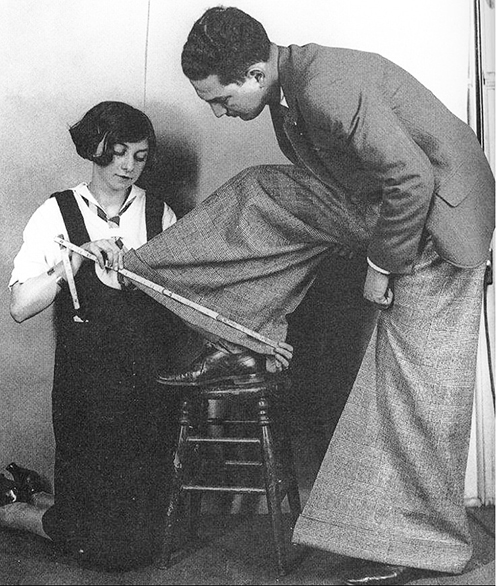 FIT
Unlike the image above you are in the best hands with Bookster. When you order a garment from us, whether if you have the confidence to do it yourself via the website with our measuring guide, or if not in conjunction with one of us assisting you personally with measurements and more, or even by visiting our showroom for a face to face free consultation, there is one factor that is at the forefront…it's a given that all customers expect and worry about. That is FIT.
It is what the informed know us for, we guarantee FIT.
It is just one of the many reasons we enjoy a core of long-standing repeat customers around the world.
Another equal important factor is CONSISTENCY. This is also how we earn the loyalty of some very particular customers who know exactly what they want and were used this kind of service years back but which they thought had disappeared these days, this is such a common accolade we are very proud of.
The fact is once you decide to give us a try and entrust you first order to us it is no gamble even if you are 1,000's of miles away. We have been fitting customers remotely for many years by our own methods and experience. And once we have captured your measurements etc reordering in future is so easy. None of us remain static size wise so even if you gain or lose weight etc we can make fine adjustments at any point.
We do our best to be as affordable as possible even with the world as it is. We offer equally wonderful cloth choice ranges but with different price points to suit all pockets.
Though best known for British Tweed we have always made traditional and even vintage styled suits and jackets from glorious suiting cloths. Shooting and Sporting wear has always been part of our repertoire and our Norfolk Jacket is a true signature piece.
Our Fishtail Waist trousers are very popular as are our heavyweight Moleskins, Corduroy and Whip Cords.
Take a step back in time in terms of quality, choice and a most personal service and enjoy the precision, consistency and beauty of our tailoring.
We are proud of every individually made piece we make and would be delighted to have a chat with you anytime if you have any queries however small.
The Bookster Team