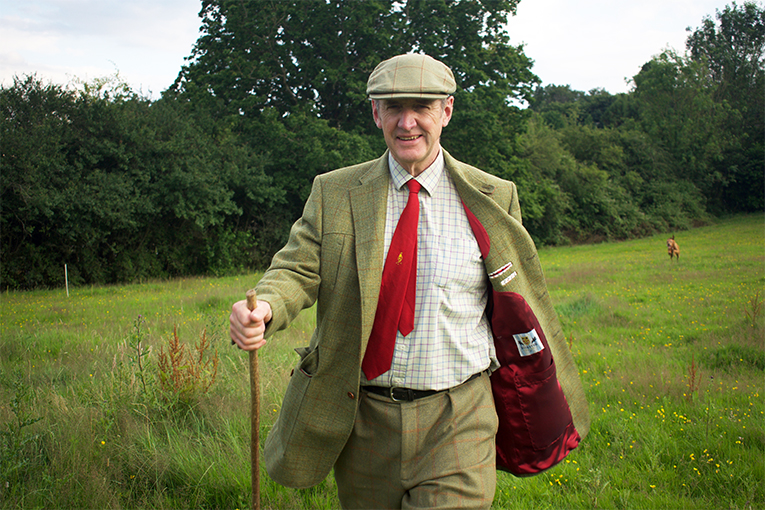 It may seem odd to mention one of our signature models in Summer but you need to plan ahead to order one of these individually made jackets from us, before we know it we'll be in the next season..here is a personal recollection and account from customer John Clements, a writer on field sports and more.
The Bookster Full Norfolk Jacket
'Pressing the Order Button'
Some History
The Norfolk Jacket started to appear in England in the 1860's. Opinion is divided on the precise origin, but the two favourites are Henry Fitzalan-Howard, the 15th Duke of Norfolk and Thomas Coke, the 1st Earl of Leicester. Either way it's popularity was boosted by the fact that the then, Prince of Wales (later Edward VII), was a big fan. It was the jacket to wear in the great outdoors, Mallory certainly had one on his trip to Everest, and if Everest isn't high enough for you, then in the 1930s, Professor Auguste Piccard was wearing one ten miles above sea level suspended beneath a helium balloon.
The Norfolk Jacket is, above all, a practical garment, absolutely fit for purpose but with a style of its own.
Which brings me to this; My Bookster, Full Norfolk Jacket. I have two other tweed jackets, both off the peg, both good quality, and both don't really fit, ok for trips to the pub or walks but not for what you might call practical.
So what is special about the Full Norfolk?
Reason one; the belt!
Icy winds from the cold North Sea may want to divert up your back to freeze your kidneys en route inland, but the belt has other ideas. It also means that the weight of the entire contents of your pockets, whether they be cartridges, conkers or sandwiches is supported by your belt and does not swing from your shoulders, thus restricting essential movement. Handy for the shooting folk.
Reason two; they're distinct.
Those keen on things horological will have noted that the 1860s and indeed the 1930s have well and truly sailed and that, invited or not, the twenty first century has its feet firmly under the table; you may well have noted that these days you don't see many Full Norfolk Jackets. This is one of the things that attracted me to them. It is one thing for something to be practical and popular for that reason - the fleece gilet for example- but whilst this champions the ubiquitous; it also restricts the gene pool of style and individuality. So, as I have said to former pupils so many times, "The atoms that make you have come together just once: you are not only the only 'you' ever, you are the best 'you,' so why would you want to be like everyone else?"
It was this idea that drew me to the Bookster website. I wanted a jacket that "off the peg" had failed to provide, one that would not only fit me, but suit me; a bit old fashioned, individual but not attention seeking and practical.
I had several dry runs at configuring my jacket, and I found ordering a few sample tweeds invaluable, it gives you an excellent starting point. I found the lining, the buttons, the style of pocket all fairly plain sailing after that. I will say that I paid great attention to the measurements, measuring not just me but the parts of jackets that fit well, sleeves, jacket length etc., were all worth considering. Finally, measurements taken and forms filled, I was ready to finally press the button. Like a parent taking their child to school for the first time, there were a few other points I wanted to make, so I put them in an email to accompany my order. Not a problem!
My jacket arrived today, this very morning. A heavy weight tweed is a bit much for a warm July day, but even so I tried it on with a jumper and went through all of the routines that it will need to perform without restriction, and it did brilliantly; plenty of room in the pockets too! Most importantly; something that can be treasured without being molly coddled, something not to be draped over a chair or folded on a car seat but something to really wear and enjoy for decades.