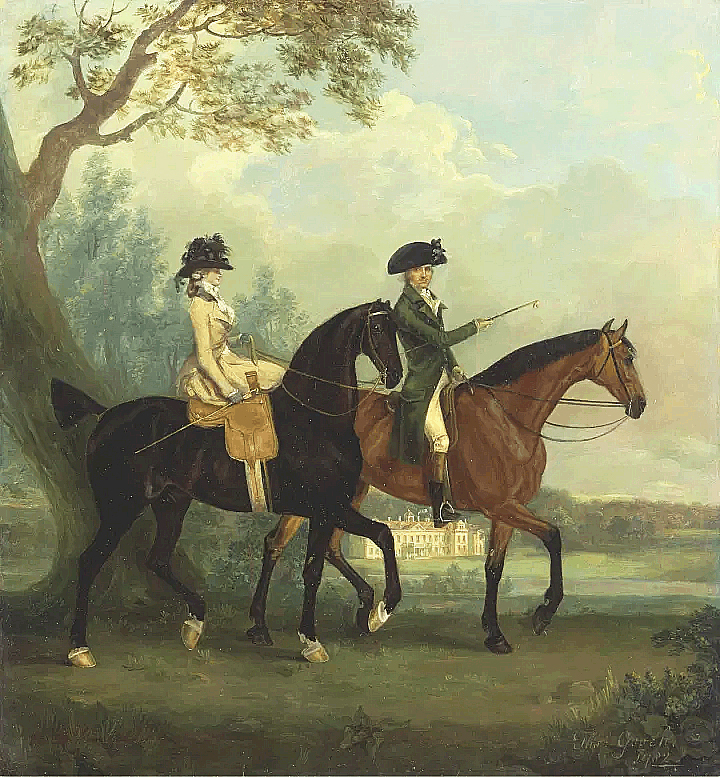 Thomas Gooch (British, 1750 – 1802), Marcia Pitt and Her Brother George Pitt, Later second Baron Rivers,
Riding in the Park at Stratfield Saye House, Hampshire
___________________________________
It was in Great Britain that the inextricable link between Horses and Fashion evolved. In particular Tweed.
The fabric itself originated in Scotland in the early 1800's originally for purely practical purposes by rural dwellers . It was durable, warm and water resistant. It became adopted by landowners and aristocracy with their own colours and designs, rather like the Clan Tartans. Districts and Estates had their own exclusive designs that survive to this day.
The 'Fashion' then extended South to the rest of Britain via the aristocracy who wore it for Shooting/ Fishing and other pursuits including Riding. It became the top garment of choice for riding out on horses for both work and play…the livery for Fox Hunting has its own distinct history and does not involve Tweed as such.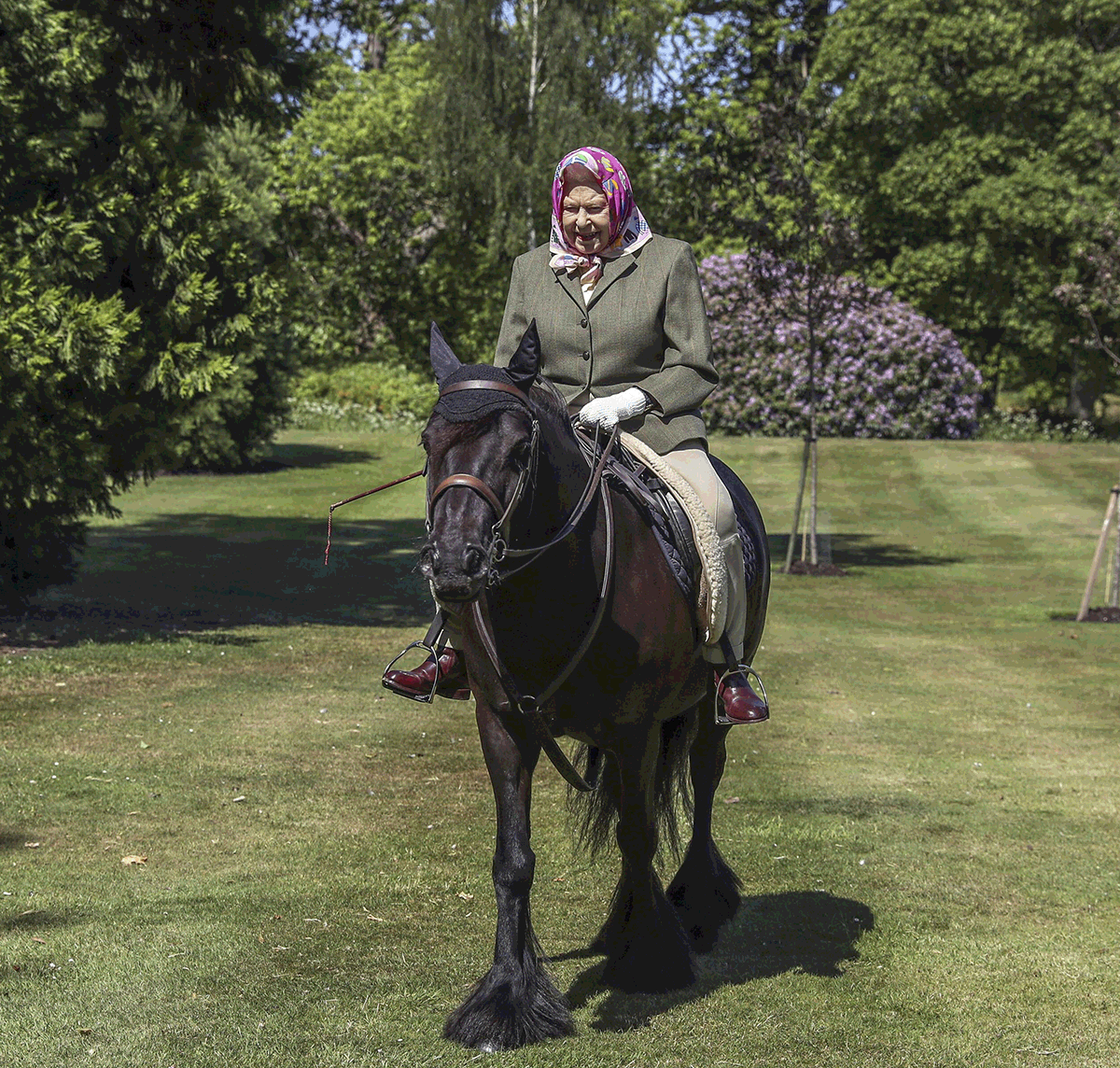 The Queen wears a Tweed Hacking Jacket on a ride at Windsor
___________________________________

Tweed was a perfect choice of attire for cooler days for Horse Racing in its many forms, from local to nationally important. Race Meetings were occasions for spectators to gather often in inclement weather early in the year and became a very social gathering. Places to see and be seen and perhaps winning (or losing) a few shillings ( or pounds!) in good company. What better place to present yourself in impressive garb, that at the same time was entirely practical and comfortable. At warmer times of year you could wear smart suits of a lighter wool cloth such as a worsted or linen but still with distinctive and colourful patterns. This attention to dress became as much a part of the atmosphere of the events as the races themselves.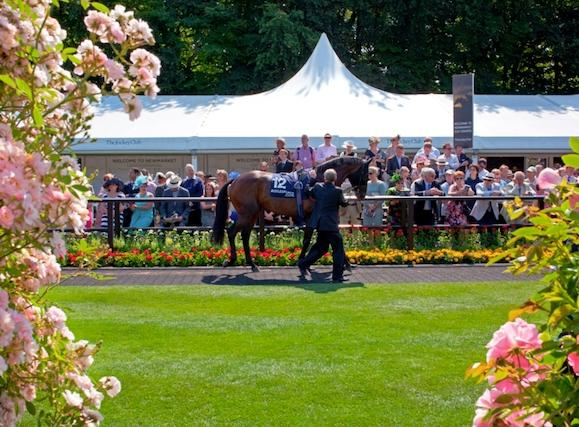 Racegoers dressed for the Paddocks at Newmarket Races England
___________________________________

The tradition proudly continues, and has spread further afield than Britain itself. Racing Meetings are joyous and exciting occasions. A chance to shrug off day to day life and celebrate our eternal relationship with horses, relax with friends en mass and partake in the spectacle of magnificent animals competing against each other in majestic surroundings. It is in our DNA going back centuries.
Bookster finds itself nestled in the Cotswolds, just a short jaunt from Cheltenham, where the steeplechase was first conceived. We have been dressing attendees to that week of events for years.
Yet equestrian functions have always been an international affair. Horse racing at the "Triple Crown" events book-end the season. The Kentucky Derby is the most famous of these. Thousands of parties are organized throughout the United States on that first Saturday in May. Attendees are clad in their summer and Southern preppy best for these events. In many ways, it has become the informal kick-off of the summer dress season across the pond. Polo events are held from coast-to-coast. They never really end in places such as Wellington, Aiken, and Middleburg. And new events continue to be established. For 10 days in June 2021, the inaugural Polo Rider Cup will take place at the Polo Club de Chantilly, outside Paris, France.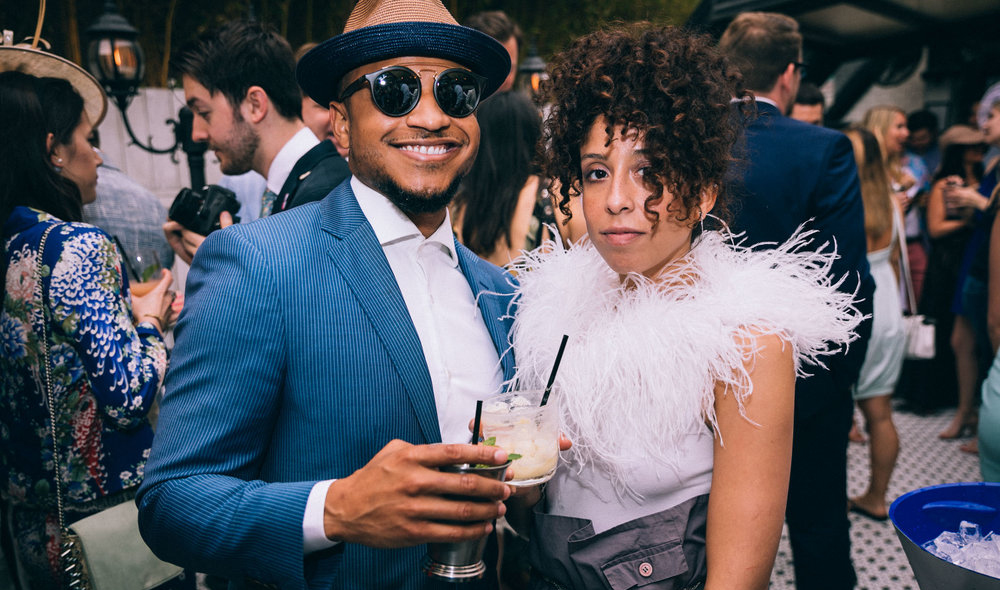 Dressed in style for the Kentucky Derby and Derby Parties
___________________________________
As the weather begins to warm up, and hopefully looking forward to Covid Restrictions easing up we find ourselves at that time when we place orders for our summer wardrobe. Garden party invitations will soon be sent. An evening dinner followed by sunset at the yacht club or wherever. Outdoor brunch overlooking the landscape at a country inn. And, yes, the festivities surrounding centuries-old equestrian events.
After this tumultuous year where the World itself has been in total upheaval socially we thought it would be nice to mark the gradual return of horse sports with albeit limited actual spectators on the ground by offering a new twist on Horse Racing and Fashion to cover the spring summer race meetings. With a nod toward the forementioned kickoff in Kentucky, we introduce firstly the Derby Jacket, a limited edition of traditional Blue Blazer for men in sublime top of the range Linen/Silk cloth from Dugdale Bros. Secondly, the Ascot Jacket a stunningly elegant shadow style tartan in Linen/Silk/wool from Holland & Sherry. The perfect weights for warmer days, that also can be worn for any elegant occasion for years to come. Wear either of these distinctive and versatile pieces from Cheltenham to the National Sporting Library & Musuem Annual Polo Classic in Middleburg. And they will never be out of place for other summer outdoor events . Don't forget your Saratoga Sunglasses to top off the look.


New Bookster Ascot and Derby Jackets
___________________________________
These are tailored from limited edition cloths. A small number of ready to wear jackets will be available end of March, you can pre-order here for custom orders please contact us
We are proud to continue and celebrate our bond with the equestrian world and Fine Clothing.